Wellsfield Farm Park
Wellsfield Farm Park is a Visitor Attraction centrally located just outside Denny near Stirling and Falkirk in a beautiful scenic valley 2 miles south of Stirling M9/M80 Motorway Services with exceptionally easy access from all directions.
Wellsfield Farm welcomes people of all ages and backgrounds. We have a policy of openness and accessibility to all, including families of children with special needs. We take child safeguarding and health and safety very seriously. Please see our safeguarding policies at the bottom of this page.

We are a local family run business.
Opening Times:
10am - 5.30pm 7 Days per Week, 1st April to 1st November each year.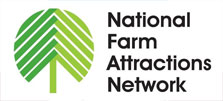 Day tickets can be purchased for admission to Wellsfield Farm Park at farm reception. We also offer Annual Season Passes.
Wellsfield Farm Park and Indoor Fun Barn is open 1st April 1st November each year.
Fun, entertainment and activities, whatever the weather! Acres of space and kilometres of trails with lots of activities for all ages to enjoy the fresh air. Maps are always available at farm reception indicating the locations of all our attractions around the farm.
The farm park is a childrens play area / adventure fun park suitable for children from 18 months to 16 years of age, and the majority of the attractions inside and outside the park are also suitable for adults and senior citizens. Pony rides minimum age is 3 years old.
We also have on site indoor play zones including an Indoor Fun Barn and a Fun Shack.
The farm park attractions are in addition to the leisure facilities we already have on site including the trout fishery, horse and pony rides, coffee shop, health club and holiday lodges.
Enjoy Wellsfield Farm Coffee Shop and Tearoom. We are family friendly, serving soups, sandwiches, paninis, toasties, baked potatoes, milkshakes, frappes, ice creams, Italian espresso coffees and other hot beverages, plus a delicious selection of cakes and home baking.
Sit in or Take-Away! Click here to view our
Wellsfied Farm Coffee Shop and Tearoom Menu.
We offer Kids Farm Snack Boxes – click here to view our
Kids Snack Box Contents.
Wellsfield Farm Park Kiosk Tuck Shop also sells Ice Creams, Bottled Drinks, Snacks and Sweets.
There is a vending machine in the Indoor Fun Barn for drinks and snacks too.
Visitors are welcome to bring picnics and packed lunches to the park, however they must be consumed in the park.
Please visit our Facebook page for regular updates on events, developments and discounts.
Here is a short list of the main attractions which form part of our new Visitor Attraction:
Jumping Pillow
Go Karting Track (Go Kart Tractors and Side Car Trikes)
Tubing Slide
Grass Sledges Giant Slide
Pony Rides
Indoor Fun Barn
Birthday Party Fun Shack
Tots Tractors & Trikes
Pre-School Sand Pit with Diggers
Kids Play Frame - Climbing Wall, Traverse Wall, Chute, Ramps.
Farm Swings
Pyramid Slide & Climber
Family Basket Swing
Soft Archery Range
Real Life Tractor
Springy Horse
Fish Tank & Viewing Deck
Mini Beasts Zone
Cave & Dungeon
Mummy Chamber
Bird Hide
Night Walk (blindfolded)
Trout Fishing & Rod/Bait Hire
The Druids Stone
Nature Trail including Animal Educational Signs, the Badgers Sett Viewpoint, Wallace Stone Viewpoint with Wallace Sword.
Assault Course:
Zip Wire
Climbing Wall
Monkey Bars
Parallel Bars & Hanging Bars
Balance Beams
Agility Poles
Scramble Net
Tractor Tyres Tunnel
Agility Tyres
Indoor Play Zones:
Large Indoor Fun Barn with Bouncy Castle, Castle Slide, Soft Adventure Play Structure, Inflatable Play Park, Tots Tractors and Seating for Adults.
Indoor Fun Shack with Soft Play and Wall Games.
Both the above can be used for Birthday Parties.
Please Note:
Wellsfield Farm Park is open from 1st April to 1st November each year.
Children (under 16 yrs) are not allowed in the farm park unless accompanied by an adult. For security reasons adults are not allowed in the farm park unless accompanying or supervising children.
Security wrist bands are provided for all visitors at admissions and must be worn before entering the farm park. The wrist bands have a tear off tag which can be used for discounts on other activities e.g. pony rides. We use different colours and types of wristbands depending on day of week, and for day visitors, members, and holiday lodge guests.
Wet Weather – Exercise and fresh air is beneficial whatever the weather, and although Wellsfield Farm Park is a very well drained site, which dries very quickly, please bring a change of clothes/footwear in wet weather.
Dogs are strictly not allowed in the Farm Park except guide dogs, However dogs are allowed on the farm trails if kept on a lead at all times.
Wellsfield Farm Park is closed and the gates locked at 5.30pm every day. No entry to any visitors including Holiday Lodge Guests after 5.30pm. CCTV Cameras & 24 Hour Recording in Operation for Security and Health & Safety.
Wellsfield Farm Park is a Member of the NFAN (National Farm Attractions Network).
If you would like to enquire about memberships you can do so by calling 01324 822800 or by completing the on-line enquiry form on the right hand side of this page.
Wellsfield Farm Child Protection (Safeguarding) Policy
Wellsfield Farm Behaviour Code for Children, Parents/Guardians/Carers and Staff
Wellsfield Farm Facebook & Social Media Engagement Policy
The Meaning of the Wellsfield Farm Park Logo